About A-Lert Construction Services
People. Quality. Safety.
Since the beginning in America's heartland of southeastern Kansas more than 35 years ago, these core values have provided the foundation for solid growth at A-Lert Construction Services. A simple idea was the beginning:
"To service customers with a labor force of skilled craftsmen, available for dispatch to all types of industrial construction or repair projects."
Guided by the shared values of founder Harry Oehlert, A-Lert has grown from a small regional contractor to a national heavy industrial construction company. Today, A-Lert expertise includes design-build construction, skilled labor services, plant maintenance and repair, and a range of other specialty services. A-Lert maintains a presence in industries such as:
Grain Processing Industry
Food Processing Industry
Meat Processing Industry
Cement Manufacturing Industry
Chemical Processing Industry
Energy Generation Industry
Through the years and the growth, our core values have remained. The grass-roots American "can do"attitude which fostered the beginning of A-Lert survives and thrives today.
A-Lert Construction Services continues to be headquartered in Fredonia, KS, but also maintains regional offices in Illinois, Iowa, Georgia, and North Carolina.
---
A-Lert Construction Services is part of the A-Lert group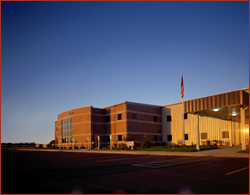 As industry-leading self storage builders, A-Lert Building Systems specializes in planning and site layout, design, and construction of self-storage buildings and is headquartered in New Braunfels, Texas.
A-Lert Roof Systems, also located in New Braunfels, Texas, specializes in standing seam metal roof systems.
The A-Lert group is a part of Centurion Industries, Inc., headquartered in Garrett, Indiana (pictured here).